Leaving no trace
From Poland to Japan In a Zero-Emission Nissan LEAF
In physics, there's a theory called the Observer Effect. It states that simply observing a situation or phenomenon necessarily changes that phenomenon.
The same happens in travel. An influx of visitors to the temple complex in Angkor Wat, Cambodia, have created such wear and tear that many sections have had to be repaired or closed.
It's easy to see how tourism can create a negative physical effect where we travel. But looking deeper, we're learning that there's a less visible, but perhaps more damaging effect on the culture and economy of the destinations we visit.
A NEW WAY TO TRAVEL OUR WORLD
Some people are exploring new ways to see things authentically as they are, and do as little harm in the process. Welcome to sustainable travel.

MEET MAREK KAMINSKI
Polar explorer, author, photographer, and entrepreneur.
Kaminski recently took a 3-month, 16,000 km road trip from Zakopane, Poland to Tokyo, Japan in a zero-emission Nissan LEAF. Named #NoTraceExpedition, he passed through eight countries over two continents, including some of the most rugged terrain in Russia, Mongolia, and China. Sustainability for the trip went beyond creating no carbon emissions. Marek set things up to minimize the formation of garbage, while creating a house on wheels: tent, repair kit, food and cooking supplies – even a bed that let him stretch out full-length inside the LEAF.
He's no stranger to extreme travel – he's the first man to have visited the North and South Poles in the same year – and he did this solo. While this got him in the Guinness book of records, his real reward is to save the planet, and make the world we live in better for everyone. He even created a foundation that assists young people with disabilities, helping them travel to the polar regions, even having them take part in actual expeditions.

"For me, this journey is not just about reaching my destination – it is also about making a simple, brilliant change to be more sustainable…"
MORE OPPORTUNITIES TO CONNECT AND LEARN
While covering this much ground in a 100% electric vehicle provides some unique challenges, it has rewards, too. The time required to charge his LEAF gave him the opportunity to spend time with local communities, to learn about them, and share the vision of sustainable travel. From modern cities in Russia, China, and Japan, to rural communities in Siberia and Mongolia – some that had never seen an electric vehicle before – Marek and his LEAF saw it all.
And while the roads, weather conditions, languages and cultures were vast and diverse, he also found common ground where a concern about our planet, and a commitment to make a brighter future were common themes.

"People understand that travelling long distance by EV is not easy, but they really understood you care about the environment, so they want to help with electricity, food, a place to stay"
"The quietness of an EV makes the drive much easier – like a moving meditation – letting me enjoy what I see, giving me quiet time to think..."
PERFECT TRAVELING PARTNER
Just as interesting, Kaminski's LEAF had almost no modifications to take on this legendary journey. To allow him to plug in the car to a variety of charging equipment he might encounter, Marek had a versatile set of adapters custom-built.

The LEAF proved to be 100% reliable during his expedition, with no breakdowns of any kind. He points out that the ProPILOT – Nissan's hands-on driving assistant designed to help drivers during long highway trips and stop and go traffic helped keep him relaxed on long stints behind the wheel.

EXPLORING FARTHER AND SMARTER
While that epic journey might seem like a once-in-a-lifetime trip, Kaminski and NoTrace are getting ready for an even greater journey. In 2019, he plans to drive a Nissan EV on a global expedition to share the vision and the reality of sustainable travel and living. Exciting new technologies will be along for the ride; Marek will provide a prototype artificial intelligence
system that he'll use as his copilot, designed not only to help guide, but to study global climate situations.

AI will be a next-level addition to a skill set he developed on the first NoTrace Expedition – driving in typhoons, snow storms, thunderstorms and more. He says the 16,000-kilometer trip gave him 16,000 pieces of information.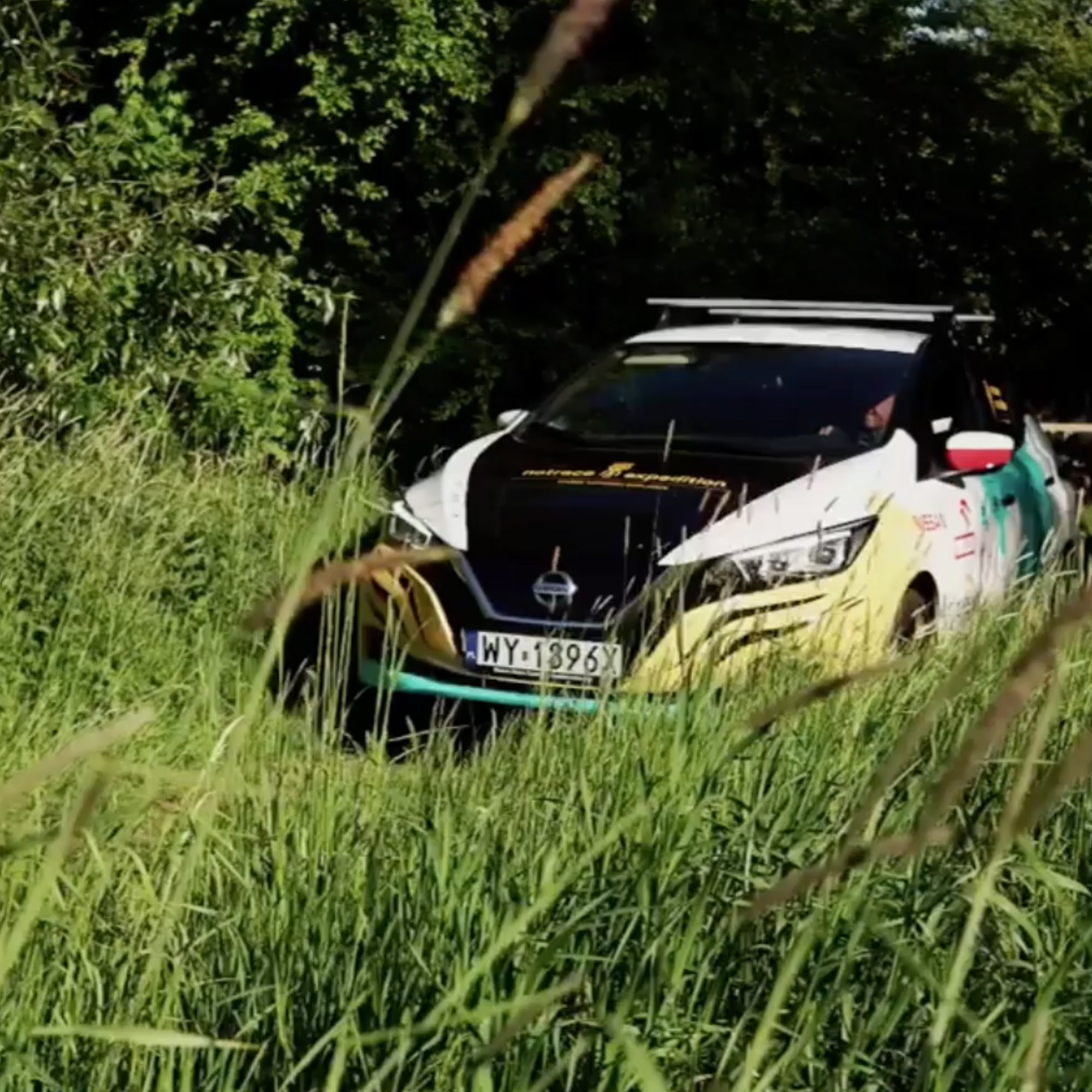 READY FOR YOUR OWN EXPEDITION?
While Marek's resume makes him superbly capable for this journey, he says sustainable travel is for everyone – even a grand adventure in an EV. His advice – "Be prepared, but don't be afraid". The trick is planning, planning, planning.
With social media and the internet, you can find like-minded enthusiasts to help you. And with an EV, a little special care is needed to make sure you can find places to charge – and ways to pay for them. Some require special charge cards that you'll need to order in advance. It's worth doing -the rewards of seeing the world, the people and the environment we all share far outweigh the challenges.
So, without a drop of gas used, in places that may have never even seen an EV, Marek and his Nissan LEAF have created an entirely new vision of road travel. And have seen some amazing things in the process.

Check out this Nissan electric car with more range than ever