THE FUTURE OF DRIVING IS PERFECTLY CLEAR
NISSAN ProPilot And ProPilot Park
This is driving assistance that's always looking ahead. Nissan Intelligent Mobility shows that advanced technology makes today's drive easier and more confident, and it promises that the future will continue to exhilarate in new, exciting ways.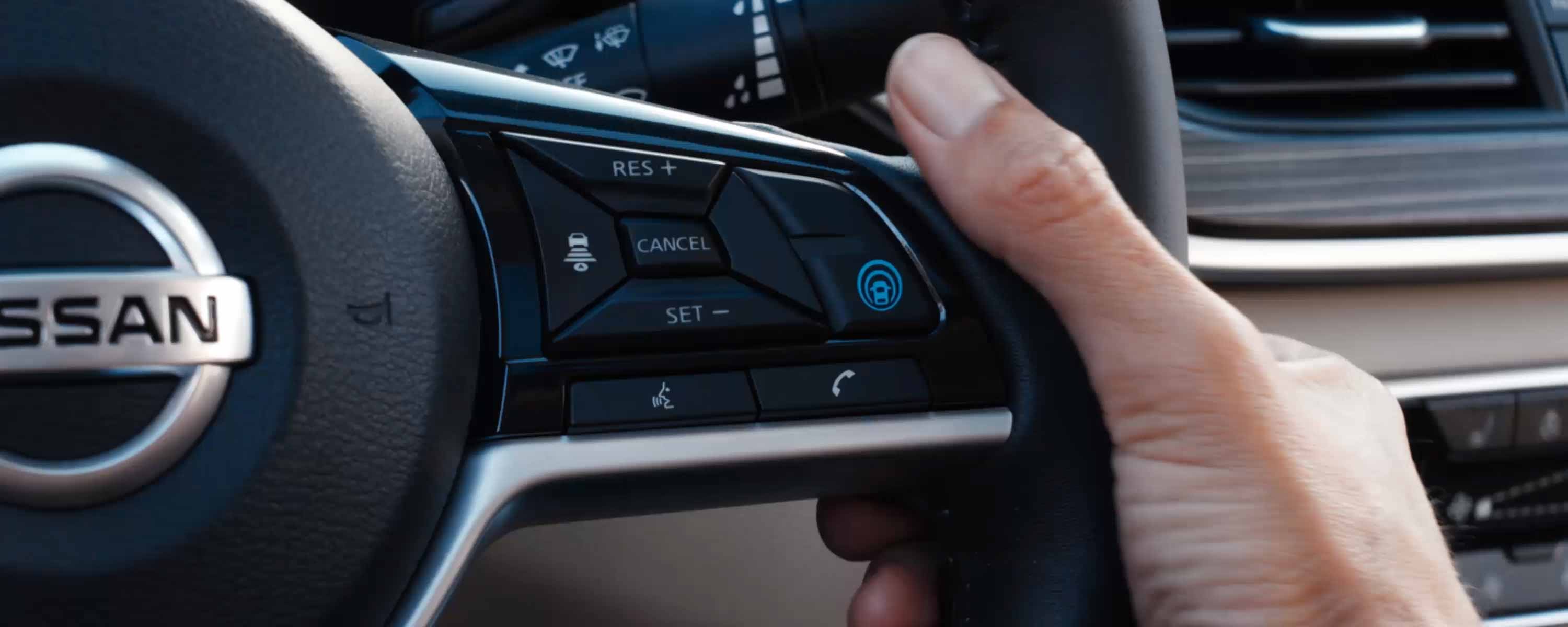 Enjoy the drive, we'll do the rest
The groundbreaking ProPILOT and ProPILOT Park helps turn your highway commute into something you'll actually look forward to. The system helps out with your daily driving by helping to keep the vehicle centered in its lane, even through gentle curves. And when you get to your parking spot, you glide in with ease. You'll never fear a kerb again.

The road is full of distractions both in and outside the car. That's why we developed ProPILOT, an intuitive 'hands on' driving assistant, which helps keep you fully alert and centered in your lane.
ProPILOT is convenient and easy to use. Simply enable the system with the touch of a button on the steering wheel. Then set your speed and distance. ProPILOT goes to work, assisting with steering, braking, and accelerating, reducing your workload, and helping keep you safe and comfortable.

ProPilot In Highway Traffic
ProPILOT helps keep a set distance from the car ahead of you. It can even come to a stop and, if you're stopped for 3 seconds or less, can bring you back up to speed when traffic starts moving again.

ProPilot On The Open Road
ProPILOT helps keep the vehicle centered in its lane through straightaways and gentle curves.

Parking just got a whole lot easier with ProPILOT Park. It's an innovative system that helps you identify and navigate into parking spaces.
ProPILOT Park assists the driver to park in three easy steps by controlling the steering, accelerator, brakes, gear shift, and parking brake. The system can even recognize an open space, and once the driver selects the type of space, it can guide the car into front, back-in or parallel parking spots.

Step One:
In the vicinity of the desired parking space, press the "ProPILOT Park" button once, then slowly approach and stop the car in front of the desired parking space.
Step Two:
The vehicle will automatically detect the space and notify you if the system is active. You simply confirm by pressing 'Start Park' on the Nav Monitor.
Step Three:
Hold down the ProPILOT Park button, and the vehicle glides gently, and accurately, into the space. If you release the button, or if you step on the brakes or adjust the steering wheel, the system will deactivate.